Here Are The Best Car & Fashion Collaborations To Hit The Road
Buckle up, in the name of fashion!
When we think of fashion collaborations, we typically think of collaborations with other designers. From Fendi Skims, to Gucci and Balenciaiga, fashion brand collaborations go down in history. But, have you ever seen a fashion brand collaborate with a car company? Fashion houses have been making custom cars in partnership with some of the world's biggest car companies for years. From Fiat and Gucci, to Versace and Lamborghini, V Man takes a look at 10 of the best car and fashion collaborations.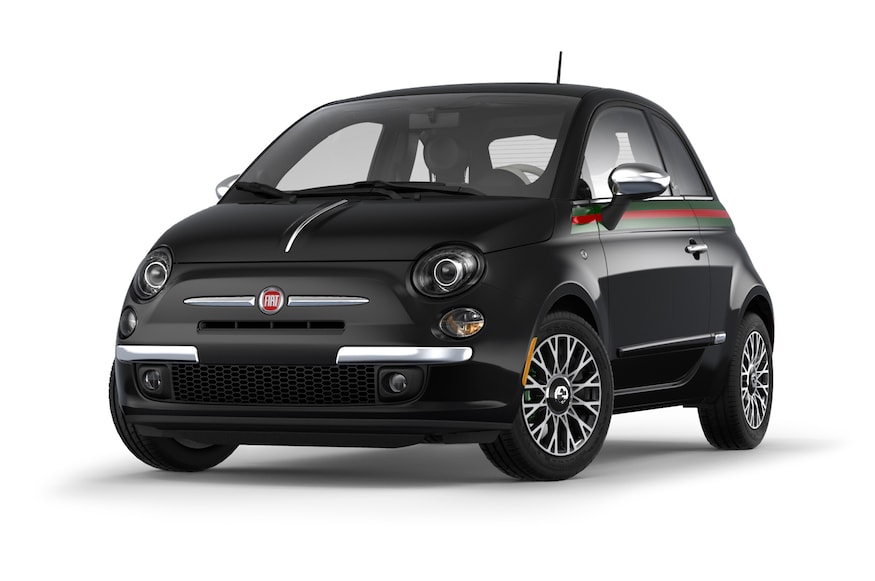 Fiat 500 by Fiat and Gucci 
In 2011, Frida Giannini served as the creative director for Gucci. As the brand was getting ready to celebrate its 90 year anniversary, Giannini wanted to go big or go home. What better way to celebrate true Italian craft than with an Italian car? For their celebration, Giannini enlisted the help of Fiat to create a custom Gucci Fiat 500. The Gucci Fiat 500 came in both the hatchback and cabriolet models. Each car was available in black or white, and detailed with iconic Gucci symbols. The red and green Gucci stripe lined the doors of the car, while a silver Gucci logo found its way onto door frames and the hatchback. An interlocking G logo decorated the wheel hubs. The interior of the Fiat 500 featured leather embroidered with the Gucci logo and leather trim. 
Mercedes Benz 300 SL by Bape and Mercedes Benz 
BAPE's founder Nigo has an affinity for crazy cars. The designer drives cars like pink Bugattis and no one bats an eye. However, when BAPE collaborated with Mercedes Benz for a custom car, it attracted major attention. The streetwear brand wrapped a 1954 300 SL 'Gullwing' in their custom camouflage pattern. Under the hood sits a modern 6.0 liter V8, making it faster than the original model. 
Bugatti Chiron by Hermès and Bugatti 
When real estate manager and car collector Manny Khoshbin went looking for a new addition to his collection, he decided to go all out. Khoshbin asked Bugatti and Hermès to create a custom car just for him. Luckily for Khoshbin and luxury car fans everywhere, the brands agreed. Together, Bugatti and Hermès created a one-of-a-kind Bugatti Chiron to combined both of their design aesthetics. The exterior was came in Hermès signature Craie off-white paint, and featured cashmere fabric on the door panels, a horseshoe grill, and several branded logos.
Project Geländewagen by Virgil Abloh and Mercedes Benz 
In 2020, Off-White creative director Virgil Abloh collaborated with Mercedes Benz to create a custom G Wagon. "Project Geländewagen" as it aimed to celebrate the legacy of the SUV, as it is one of the oldest cars still in production. Abloh stripped the car of all of its parts, and turned the car into a work of art, rather than a functioning vehicle.
When finished, the car had no headlights, tail lights, side windows, or backseats, making it unsafe for the road. Abloh still chose to incorporate some mechanical features into the design, and had items such as a Formula 1 steering wheel, racing seats from Mercedes-Benz DTM cars, a roll cage, and safety nets added to the design. The exterior of the car had an unfinished white paint job and details that made the car look cartoon like. Project Geländewagen never saw the commercial market, but a 1:3 scale model of the vehicle sold for $201,600 at at Sotheby's auction. 
Maserati Quattroporte S Q4 GranLusso by Maserati and Ermenegildo Zegna
Debuting at the Frankfurt Motor Show, Masterati partnered with menswear design Ermenegildo Zegna to create 50 limited edition Quattroporte S Q4 GranLusso. This car featured a brown interior with a Blu Sofisticato exterior. The interior consists of a Pelletessuta textile, which is a special fabric made from Nappa leather. 
Lamborghini Murciélago LP 640 by Lamborghini and Versace
At the 2006 Paris Motor Show, Lamborghini took spectators by surprise with their Murciélago model. It had a sleek, batmobile like design that brought a different aesthetic to Lamborghini's geometric vibe. For this Murciélago, the car company looked to Versace to design a new edition. The Versace edition featured the brand's signature pattern at the bottom of the car doors. It came in a white and black exterior, but the interior remained the same. The interior featured seats embroidered with the Versace Greco design, a Gianni Versace logo plaque in the seats, and Versace luggage. Only 20 of these cars were ever produced, making them an extremely rare collectors item. 
Rolls-Royce Cullinan by Drake, Chrome Hearts and Rolls Royce 
A Chrome Hearts and Rolls Royce collaboration is the most Drake thing Drake has ever done. The rapper is known to constantly flex his Chrome Hearts collection and his Rolls Royce whenever he has the chance. For the celebration of his latest album, Certified Lover Boy, Drake didn't want to stop with his Chrome Hearts clothing collaboration. Instead, he combined his two passions, clothes and cars, and went all out. The one-of-one Chrome Hearts X Drake Rolls Royce Cullinan was made specifically for the rapper. The car was initially on display at the Miami Institute of Contemporary Art, but was later added to the rapper's personal car collection. It features a gothic motifs that represent Chrome Hearts were displayed throughout the interior. Their iconic cross replaced the Rolls Royce hood ornament, making this one of the coolest collaboration cars. 
964 Porsche Carrera 4 by Porsche and Aimé Leon Dore
For their Fall/Winter 2020 collection, Aimé Leon Dore founder Teddy Santis kicked off the season with a bang. To ring in the new collection, Santins collaborated with German car company Porsche to create a custom Aimé Leon Dore 964 Porsche Carrera 4. It featured a white exterior with a collab logo badge in the trunk and a red pegasus by the gas cap. The car became Santis' personal vehicle after the launch, but it caught  the attention of fashion fans and car gurus alike. Aimé Leon Dore released apparel, such as  logo jackets and T-shirts, and special accessories, such as toolbags and leather driving gloves, to accompany the car's launch. 
Aventador S by Lamborghini X Yohji Yamamoto 
After the head of design at Lamborghini, Mitja Borkert, saw Yohji Yamamoto's designs on the runway of one of his fashion shows, Borkert knew he had to make a custom car. To celebrate the launch of The Lounge Tokyo, Lamborghini's experiential retail store, Borkert enlisted the help of Yamamoto to create a custom Aventador S. The car is a staple to the Lamborghini image, and Yamamoto brought it to the next level with his designs. The one-of-a-kind car features a red and black exterior covered in Yamamoto's logo. The interior features black plush suede fabric and embroidered text across the seats. Yamamoto and Lamborghini released a limited edition capsule collection to go along with the car. The collection consisted of a hoodie, jacket, and fishtail parka, which all matched the Aventador S.