Colin Kaepernick All Eyes On Me
IN HIS FIRST TWO SEASONS AS STARTING QUARTERBACK, COLIN KAEPERNICK LED THE SAN FRANCISCO 49ERS TO A SUPER BOWL AND CONFERENCE CHAMPIONSHIP. NOW, WITH A $126 MILLION PERFORMANCE – BASED CONTRACT AND THE MEDIA'S FULL ATTENTION, HE'S LOOKING TO PROVE HIS WORTH, NOT TO THE WORLD, BUT TO HIMSELF.
IN HIS FIRST TWO SEASONS AS STARTING QUARTERBACK, COLIN KAEPERNICK LED THE SAN FRANCISCO 49ERS TO A SUPER BOWL AND CONFERENCE CHAMPIONSHIP. NOW, WITH A $126 MILLION PERFORMANCE – BASED CONTRACT AND THE MEDIA'S FULL ATTENTION, HE'S LOOKING TO PROVE HIS WORTH, NOT TO THE WORLD, BUT TO HIMSELF.
"But you could never see if you sit behind the light
You don't have to pick me
To win the title fight
But I'm gonna wear that championship belt so tight
and if I'm wrong there is snow white
And if I'm wrong there is no white
I'm trying to be polite"
-Lil Wayne, "Gossip"
Football is commonly called a game of inches. But it's also a function of time. Seconds, minutes, hours, days. Time equals opportunity. Controlling time of possession usually means victory.
I'm fifteen minutes early, waiting for Colin Kaepernick in the lobby of the Ritz Carlton in downtown Los Angeles. Kaepernick is the 26-year-old quarterback of the San Francisco 49ers, and this September he enters his third season as a starter. In his first two seasons—well, technically season and a half, since he took over midway through 2012—he led his team to the Super Bowl and the NFC Championship Game, in both cases coming up just one play short of victory. Right now, however, he's running late, stuck in traffic on an unseasonably overcast Tuesday evening in mid July.
Kapernick is in L.A. to present "Best Female Athlete" at the ESPYs, ESPN's pan-sports awards show, and we're meeting in the hornets' nest of the American sports-media industrial complex: L.A. Live. It's like Blade Runner, but clean.
I'm called up to Kaep's room. On the way, I pass guests arriving and checking in. It's obvious which ones are active athletes and which are media. I try to guess what sport the athletes play, based on their body shape. I see Richard Sherman nonchalantly check in, the opposite of his onscreen persona.
Kaepernick emerges from the fitting room, and he immediately comes off as collected, cucumber-cool, relaxed. His 6'4" frame is lean and defined, his chiseled torso covered in ink. An aquiline nose, short hair with a new squiggle shaved in, a charming smile. He's wearing a tanktop with a graphic of Tupac from the film Juice, and, like Tupac, he is full of beautiful contradictions. He's devoutly religious, but by no means shuns the extracurriculars of sports-star bachelordom. He's a capitalist who decries the love of money. He fearlessly barks out cadence on the field, but is soft-spoken in person. A hero to his fans, a villain to everyone else. Depending on whom you ask, Colin Kaepernick is either a Millennial wunderkind, overrated and unproven, dynamic and exciting, a vision of football's future, a flash in the pan, a thug, a victim, selfish, selfless, a work in progress, all of the above, none of the above, some of the above, it's complicated.
Factually speaking, he's a biracial man adopted by a Milwaukee family who moved to Turlock, California, where he grew up, a few hours outside of San Francisco. A two-sport athlete in college, at the mid-major University of Nevada, he was drafted a modest thirty-sixth in the NFL (he was also drafted to play baseball, by the Chicago Cubs, but declined). Entering the league, Kaep played backup to Alex Smith for a season and a half before Smith got sidelined by a concussion. Kaep kept the job even after Smith was cleared to play, igniting a QB controversy that he ultimately won. Kaepernick holds NFL rushing records and boasts a lucrative sponsorship portfolio. Everyone has an opinion on him, and he's no stranger to being in the headlines.
Kaepernick's other team—publicist, manager, agent, stylist—clears the room, and we sit down to eat room service. Kaep is a documented diehard hip-hop fan (who calls Beats By Dre one of his sponsors), so I ask if there's any rapper or song that he really identifies with on a personal level. As he digs into a cheeseburger and Caesar, he thinks for a moment before answering, in a leisurely drawl, "I think one song that I relate to now—I loved the song when it came out, but especially in the last year and a half, since I've been put in the spotlight—is Lil Wayne's 'Gossip.' I think a lot of people in the spotlight or limelight kind of feel that way, even players who are in the NFL that don't necessarily have a big spotlight on them. I'm like, Man, where are some of these stories coming from? At some point, you just accept them, because you think, I can't change them, so go ahead and just talk."
During the season, in interviews and at press conferences, Kaepernick talks in a near-perfect sports-speak: He gives very little and is as vague as possible, like, say, a politician. "Unless I have a sit-down conversation like this," he says, "and we can actually talk and you can start to understand some of the reasons I do the things I do, or understand how I think about things—I'm not gonna give you anything to use against me. I'm not gonna give you anything that you could put into the media and say 'he said this' and make it negative, because that's gonna be your story." But he's quickly learned that even when he's said all the right things, like heaping praise on his teammates, there's still an endless supply of spin. "I could sit there and say 'Frank Gore is a great player, and Anquan Boldin is amazing, and Crabtree is this-and-that, and I love my linemen.' They'll say, 'Well, he didn't talk about any of his defensive players, so he must be just a selfish guy and he doesn't care about them. He's an asshole now.'"
In Kaepernick's breakout days, the media investigated the private lives of his adoptive parents and estranged biological parents, which he would prefer to keep private. Today, if any news items break and he's involved, he's still unlikely to get the benefit of the doubt. He's been called disrespectful for wearing a hat with a Milwaukee Brewers logo—a baseball team from his hometown—or wearing sunglasses indoors at 2013's ESPYs. Non-stories that somehow became stories. Anything that deviates from the norm is perceived as hostile.
This past spring, TMZ reported that the Miami police were investigating Kaepernick as a suspect in the sexual assault of a woman named Jayniece Prichette. Long story short, there was no sexual assault and no files were charged. But that didn't stop bogus stories from circulating. Surprisingly, Kaepernick has not filed suit against TMZ, choosing to move on and turn his cheek.
There are also other, more nefarious media narratives lurking in broad daylight, specifically the ones that use racial coding to malign and stereotype. Kaepernick is half black, but, in this country, we still round up to black. This plus the fact that he has tattoos and listens to hip-hop is a problem for some pundits, scouts, and reporters, who've espoused garbage like he has "character" or "discipline" issues. They have questioned his composure, on and off the field. They've questioned his intelligence, wondered if he's smart enough to run a complex West Coast offense. It's somewhat reminiscent of basketball writers in the '80s who tried to paint Larry Bird as a clear example of textbook intelligence and Magic as a naturally gifted street-style player, even though the inverse may have been closer to the truth.
This might not be the case for all black athletes, but it's certainly true of black athletes who are excelling at and redefining the historically white position of quarterback, players like Cam Newton, Russell Wilson, RGIII, and Kaepernick. If these QBs had entered the league a decade or so ago, the NFL may not have been ready for them at all.
"When [Michael] Vick and Vince Young first came into the league, it wasn't necessarily accepted," Kaepernick says. "It wasn't thought of as a successful way to run an offense or that it could be part of an NFL offense. I almost feel like they suffered from it. You possibly took the most explosive part of their game away from them and said, 'Don't do this. You're not supposed to. You're in the NFL. You're supposed to stay in the pocket. Maybe in college [you could run], but not here.'"
Barring the occasional short-yardage sneak, running was considered a last resort for QBs. But the game of professional football is constantly mutating, a veritable arms race between offenses and defenses. Old-school blowhards often criticize running QBs because they view their gameplan as simple, as lacking elevation. But, in reality, the offense Kaep leads is byzantine. It's still a variation on the aggressive pass-happy West Coast Offense. But most of these so-called experts, Kaep insists, "don't know what it's like to be a quarterback. They haven't been in those shoes. They don't know the demands. They don't know the difference between my offense and Peyton Manning's offense."
In late 2012, stereotypical media hack and self-unaware writer David Whitley had the following to say about Kaepernick's tattoo in a race-baiting column: "NFL quarterback is the ultimate position of influence and responsibility. He is the CEO of a high-profile organization, and you don't want your CEO to look like he just got paroled." Kaep responded on the field. He started kissing his tattooed bicep every time he ran for a touchdown, spawning Kaepernicking, which became not just a meme but a self-reflexive pose, an owning and reinterpretation of criticism. To make a negative into a positive. To turn a criticism into a compliment. Simultaneously undermining the media and provoking it further.
The objective truth is that Kaepernick is an entertaining player to watch, which is probably why he's number three on the all-NFL merchandise sales charts. He turns broken plays into rushing yardage and improvises passes that shatter the game's order. He takes big hits and looks like he's having fun doing it. He's willing to take chances and live or die by the outcome.
While most football writers might think twice before bringing race into the conversation, the media has by no means given Kaep a break. If anything, the target on Kaep's back keeps getting bigger, in direct proportion to his net worth. In June, when Kaepernick signed a new contract, effective through 2020, initial reports claimed the deal is worth $126 million. Fans and writers initially freaked out at the big round numbers, and the skewed news went viral, typical of sports megadeals in the Twitter age. But as the days went by and details trickled out, it was clear that, if anything, the contract protects the organization more than Kaepernick.
The deal, described by many as "team-friendly," guarantees $13 million for this season and base-salary increases each season to come. Most importantly, Kaepernick will lose money if he doesn't get to the Super Bowl or make the first or second All-Pro Team, and he can be cut any season before April 1 if he isn't up to management's snuff. His yearly income and whether or not he is on the team is completely dependent on his performance, a rare instance of pure meritocracy in today's professional sports industry.
Fortunately for the 49ers and their salary cap, Kaepernick personally values long-term winning over short-term financial gain. The fact that he didn't fight for the most money upfront in his contract means his team had more cash in the off-season to spend on fully weaponizing his offense. Essentially, he's happy to put the team first and take the gamble on himself. "I shouldn't get that money if I don't go to the Super Bowl," he asserts. "Growing up around my dad, who was a business man, [and] being a business major in college, I understand that if I don't perform to the level that you expect me to, I shouldn't get the same money that you expected to pay me if I was there. I understand that completely."
I ask him what his financial plans are now that he has more money than he knows what to do with. "Growing up, I said if I ever get rich, I'm gonna get a Ferrari, a Lambo, a Bentley, my dream cars growing up. [Now] I've been in the league three years and just got a big contract, and those things would be awesome to have, but not quite as exciting now that I've seen other people that have them." Kaepernick actually doesn't even own a car—he hasn't had the need for one in San Francisco and feels reluctant to blow a ton of cash on an asset that depreciates so quickly. Instead, his post-contract splurge was a new tattoo that took 27 hours—three nine-hour sessions— that says "MONEY IS THE ROOT OF ALL EVIL."
The ink is a permanent caveat to help him stay grounded. Perhaps, like Kaepernicking, it's also trolling the media, regardless if he intends it to. But mostly, Kaep seems genuinely leery of what money can do to a man. "If money is what's important to you, and you went from having very little to, Hey, you got $100 million!—shit, you better watch out, because you just got everything you've ever wished for. And you can buy anything you ever wanted. As much as you wanna get paid as much as possible, and do as well for your family as you can, you still have to keep things in perspective. At what point is enough enough?"
Now that contracts are signed and delivered, the real work can begin. The off-season in football is the longest in professional sports and thus represents the biggest opportunity to grow. "I don't like feeling like someone's catching up to me or that I'm giving someone an opportunity to get closer or become better than where I'm at. I also feel by not taking time off that I'm gaining ground on other players. I feel like that's where I get some of my advantage, not taking that time off, not resting a lot." Part of improving is recognizing you aren't perfect, and Kaepernick has that humility in spades. He admits, "I don't feel like I've played my best football yet."
The last time Kaepernick took a live snap, it didn't end well. His last play from scrimmage could've sent the 49ers to the Super Bowl. Instead, it was tipped by Richard Sherman and intercepted in the end zone. Game over. Season over. For 31 of 32 teams in the league, the last series never does end well, but the idea that Kaep can't close or can't read defenses still reverberated in the sports-media echo chamber for months to follow.
The oversimplification is that he's the guy who can't go through his progression and make the proper read. While many claim he can't win the big one, it's more that he hasn't. Keep in mind, he's only started 23 regular season games; the sample size isn't really big enough to draw any definite conclusions. But getting to the Super Bowl and the Conference Championship Game in one's first two seasons is practically unheard of. Most quarterbacks never make it to the Promised Land. Kaep was one play away from doing it twice, in his only two seasons.
Moving forward, the narratives you'll see will probably come in three forms. If Kaep plateaus, he could be labeled a bust, because of such a promising start. If he gets hurt, the narrative will be that running quarterbacks aren't long-term investments. If he wins a Super Bowl, though, none of this will matter. We're willing to forgive almost anything if someone wins a Super Bowl.
If nothing else, Kaepernick has proved his adaptability. Whatever is required of him, he'll modify himself accordingly or fail trying. He's fluid, liquid, evasive. Maybe you can attribute it to his youth or millennialesque optimism operating in a cynical culture, but that's perhaps too tidy. Life, like the play call, is more complex than it appears on TV. What is clear is that Kaepernick is committed to doing the work and seems positive about the future, despite the challenges and losses he's already had to endure.
Intentionally or not, he's helping transform the game and challenge our expectations of what a quarterback—the purest symbol of masculinity in our culture—can be. He's got miles and miles to go, but time is still on his side. And the more we try to pack him into a narrative box, the more likely he is to explode out of it. It's like Wayne raps in "Gossip": Drag my name through the mud, I come out clean. Cast away stones, I won't even blink. Young money, baby.
TANK TOP CALVIN KLEIN
COAT RALPH LAUREN SUIT, SHIRT, TIE JOHN VARVATOS
JACKET AND PANTS BELSTAFF
WEIGHT VEST NIKE
COAT RALPH LAUREN SUIT, SHIRT, TIE JOHN VARVATOS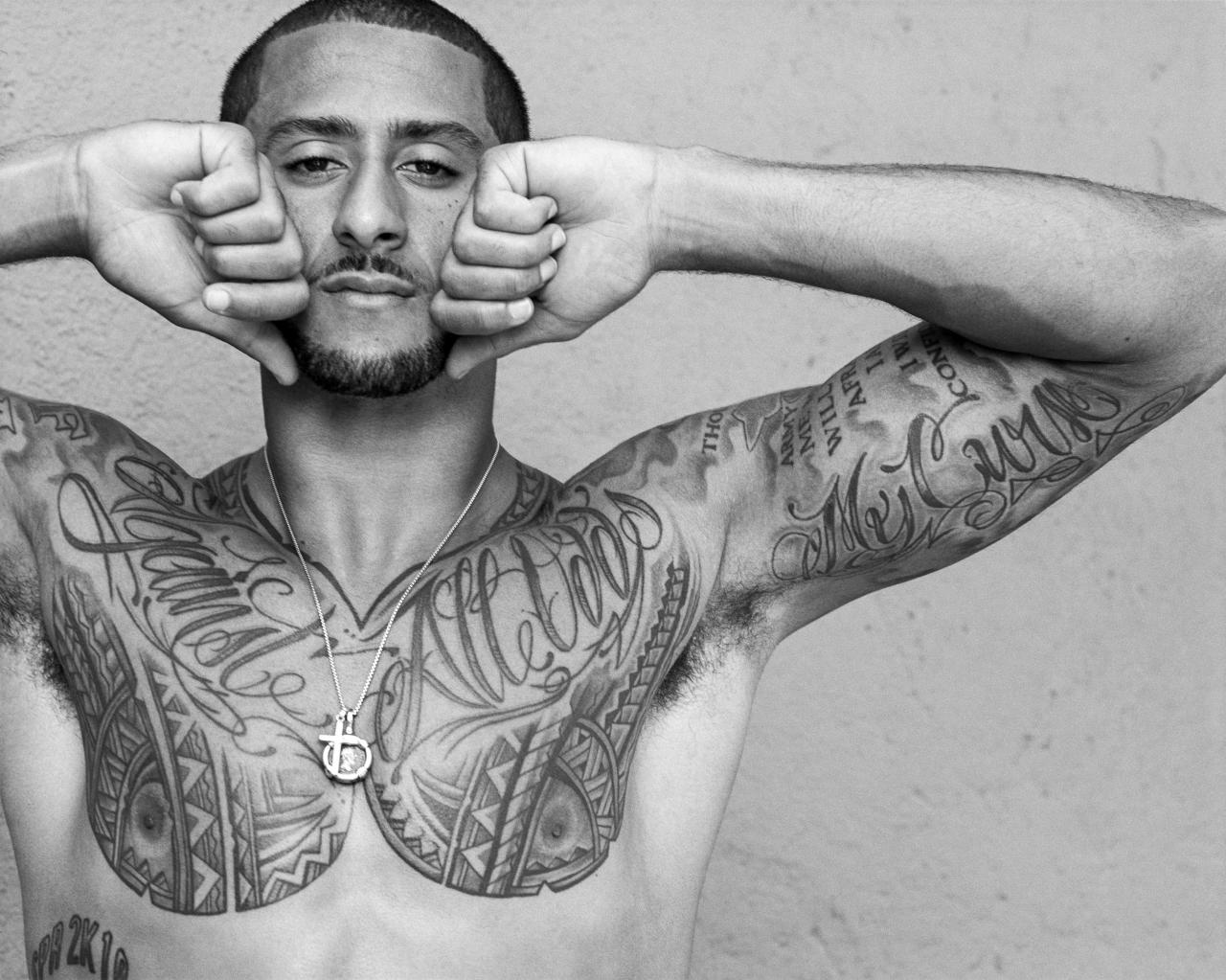 T-SHIRT YOUNG & RECKLESS HAT STYLISTS OWN
T-SHIRT YOUNG & RECKLESS HAT STYLISTS OWN
T-SHIRT YOUNG & RECKLESS HAT STYLISTS OWN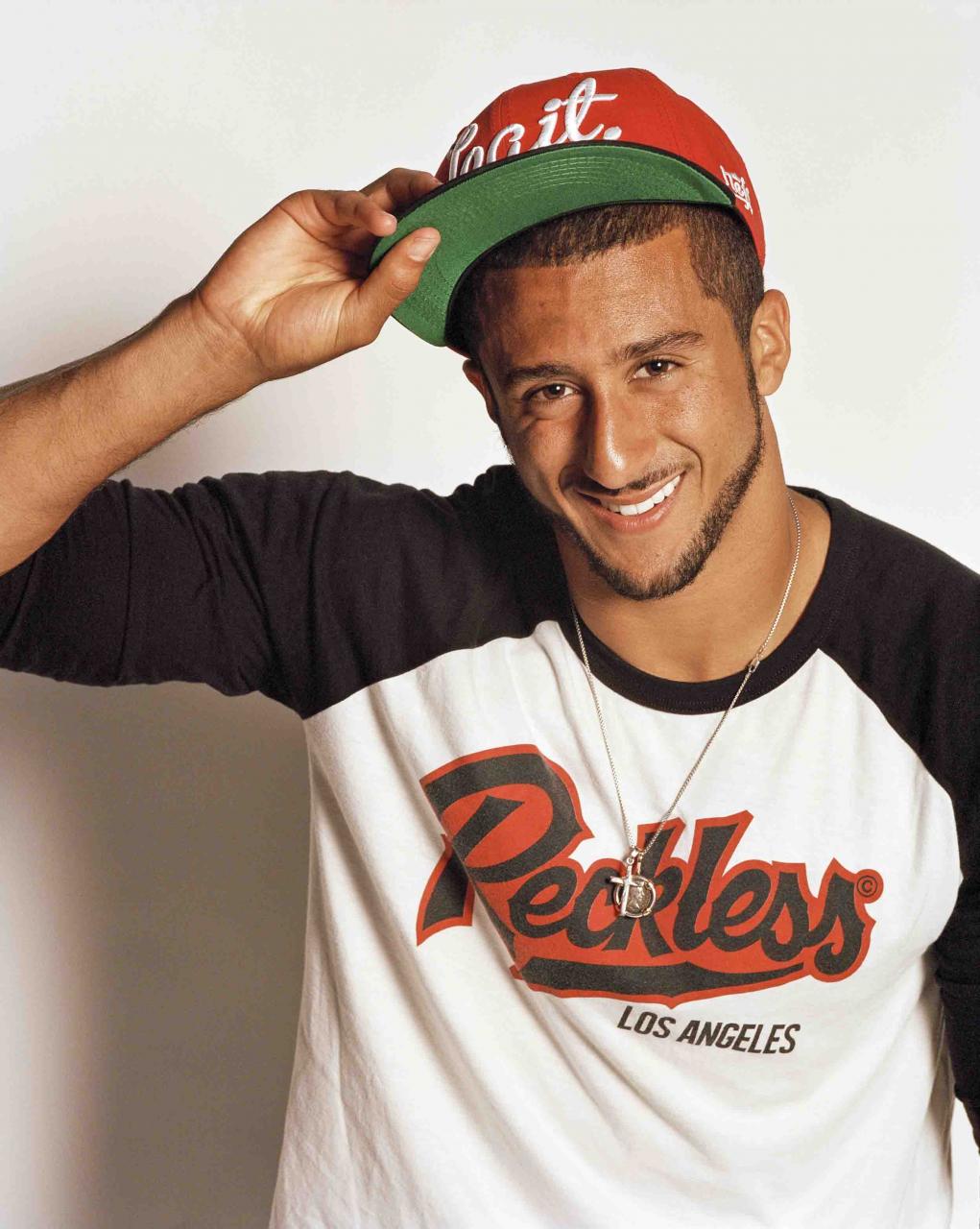 T-SHIRT YOUNG & RECKLESS HAT STYLISTS OWN
T-SHIRT YOUNG & RECKLESS HAT STYLISTS OWN
Our writers complete marvellous non-plagiarized essays and their service is affordable for everybody, because we care of every client and want to help everybody, so you are able to
hire essay writer
for the most fair price.
Credits: Hair Bridget Brager (The Wall Group)  Grooming Sarai Fiszel (Jed Root)  Stylist assistant Ali Malter  Grooming assistant Kat Reyes  Production Gwen Walberg  Locations Paramour House and The Lift Gym, Los Angeles