Punk Pop's New Phenomenon: Awsten Knight of Waterparks
VMAN's newest Digital Cover star, speaks about his die-hard fans, being vulnerable in music, and his growing love for fashion.
VMAN's newest Digital Cover star, speaks about his die-hard fans, being vulnerable in music, and his growing love for fashion.
Two minutes into a conversation with Waterparks frontman Awsten Knight, and it becomes immediately apparent why he is beloved the (pop-punk) world over: he leans in to listen, speaking through a self-effacing smile, oozing the kind of playful and, at times, delightfully delinquent charisma that evades so many rock and roll hopefuls. Over zoom from his apartment in Los Angeles, his hair is dyed a bright rainbow sherbet, clashing with a high-end neon orange bomber jacket. He drops f-bombs like nobody's business, and lights up at the mention of any of his many ambitious projects (albums, movies, music videos, fashion lines—you name it, he's tried it, or will soon enough. Don't you fucking doubt him.) 
Of course, being a likeable dude is only part of it: there's also talent and vision. Since Waterparks (now Knight, guitarist Geoff Wigington and drummer Otto Wood) got their start in Houston a decade ago, the band has stood out as masters of experimentation, blending the cheery pop-punk of their adolescence with hip-hop production, space-y techno, and serendipitous voice modulation. Their discography is proof, each release receiving an alphabetic title to reflect their progress: 2012's Airplane Conversations EP, 2014's Black Light EP, 2015's Cluster EP—produced by mentor Benji Madden of Good Charlotte and featuring My Chemical Romance's Mikey Way on bass, 2016's Double Dare LP, 2018's Entertainment, 2019's Fandom, to now: 2021, Greatest Hits, their first full-length album on major label 300. For some, pop-punk is a flash-in-the-pan musical moment from the early aughts, for Waterparks, it's a place to innovate from.  
"Nostalgia is poison for art," Knight explains. "Greatest Hits isn't paying tribute to the past or putting it on a pedestal. I'm not interested in that, it's bad for longevity." Of course he isn't—instead, he pioneers, fronting a band that routinely tops Billboard's Alternative and Rock charts, boasts of millions of monthly listens on Spotify, sells out clubs and theaters across the U.S. and U.K., all while also authoring an autobiography at 27 years old, 2019's You'd Be Paranoid Too if Everyone Was Out to Get You: A Collection of Personal Stories and Insights. 
Below, Knight opens about his band's latest album, having synthesia, fans, fashion, horror, and doing transcendental meditation in a Target Starbucks. As one does.  
Maria Sherman:You're wearing an orange bomber jacket; your album is also very orange.  Do you experience synesthesia? 
Awsten Knight: I do. That's a whole thing actually. That's why so many of our songs have color titles and it's how the lights at our shows are picked out. Orange is very bright, but also on the more relaxed side. It's sunny, but not in a 'you have to be outdoors with pollen' way. 
MS: How does synesthesia impact your personal style?  
AK: A lot of thrift spots. People are [often say] "Where'd you get those pants?" or "Who are those?" and I say "Dude, I don't know, they're just pants that I found with a lot of flowers on them." I'll buy all that I can find. I usually lean colorful. This jacket [I'm wearing], lowkey, is a sample I made for some clothing that I'm going to launch pretty soon. I've been working on that since the end of 2019. 2020 slowed down production. 
MS: Men's wear?  
AK: Unisex. It's been fun. I design most of the Waterparks merch, but sometimes I'm like, "I want to make some higher end stuff!" 
MS: Your album is called Greatest Hits, which usually refers to an "artists' best singles after their heyday." Is Waterparks breaking up? 
AK: People want what's unavailable to them. God, we totally should break up. They'll go, "dang, I missed it," and we'll come back, and it'll be a whole thing. Greatest Hits has a few meanings. One--and this is the one that makes people mad online but it's fine because they don't like us anyway—[is] "oh my god, these songs are so dope. It's the best album, it's the best everything." [Two,] our eras are marked with different colors. I'll switch up hair for different albums. I've had that title [in mind] since 2015. I just knew "G" needed to be multicolored, because Greatest Hits represents a bunch of different eras. Greatest Hits was designed to do that: and that's why a lot of styles on the album are so different from each other. This is definitely the most experimental we've gone. 
MS: The full band is pictured on the album cover, which feels true to the "greatest hits" tradition. It's very pop star. 
AK: That's literally it. I was nervous to bring it up. If somebody is on their cover, it feels less thought out, artistically. It feels more commercial, for the sake of profit.  But it plays into the greatest hits theme and idea. I want to see a platinum record next to this image.  
MS: The struggle of "commercial music" exists throughout Waterparks career. You've written explicitly about money and the shady industry behind the golden sheen of Hollywood. It's still there—like on "Lowkey as Hell," you talk about wanting a "big house."  
AK: This isn't me saying, "Ooh, I'm [the] struggle king," but I don't think I ever had more than a couple hundred bucks to my name until 2018. When you do art for a living, you're not getting a paycheck every two weeks, so it's hard to not think about [money] at all. I'm in a really cool position because right now, I feel lucky as fuck. I feel like the main character. Wait, I'm in a simulation, why do I get to be the main character? I can't watch The Truman Show, I think I'll freak out. But there aren't material things right now that I can't have. I like my apartment. I like my car. I get to be creative all day. You do good, you get a payout, and then you're chilling for a while. But [money is inconsistent.] Alternative culture, too, seems to not want artists to make money. "Artists should be doing things for free or should be donating every cent they get." It's a very odd mentality that only exists in that genre. You don't expect that from pop stars or rappers. There's also a pressure to not talk about it because everyone's so scared of being labeled a "sellout." They're worried that making money makes them inauthentic, and that's not true. 
MS: Your lyricism, in general, is very open. Not just about money, but mental health, too—that's not something a lot of men are comfortable doing. What inspires you to write from a vulnerable place? 
 AK: I write very selfishly. I just say that "I'm feeling this very strongly right now, I'm going to make it a song." I co-produced this album, it's my first co-producing credit, and I did half of it out in my living room. The thing is, when I'm out there and I'm in my feelings, I'm not thinking "How is this going to be taken?" You just constantly create. There were 108 demos made for Greatest Hits. But there's definitely been songs that I've been nervous about putting out though. 
MS: On this album? 
AK: Yeah. I was a little worried about "Numb." I was a little nervous about "Just Kidding." We put out "Paranoid," the second verse had some mental health-related lyrics [My plan B / I might just lose my shit / Hope off the balcony / Room 103] and people lost their shit. I thought, "Oh my god, "Just Kidding" is the most blunt, lyrically." There's darker stuff on the album. It's a very low point, and then "The Secret Life of Me," right after it, is a moment of dissociation in such happy packaging. I was doing a lot of transcendental meditation. It's very sound-guided; there's a lot of bells so that if your brain is trailing off, it goes *ding* and you're back in your zone. [I started doing it] in 2019. I found this link and sat at the Starbucks that's in Target. Nobody was in there and there was no music. I had the noise-canceling Air Pods. I laid down on the table and by the time it was done, it was only 15 minutes, I thought, "Holy shit, that was actually really helpful." 
MS: That sounds like the "self-care" you sing about in "Numb," but that song appears to be more about your platform and having fans.  
AK:  I think people that are too much of a fan of anything are a little crazy. The thing is, I am very grateful for the people that we have, because them being as hectic and chaotic and loud as they are, has led to a lot of cool things. I'm very grateful. I'd have to be an asshole not to be.  
MS: And you're active on social media, communicating your appreciation that way. 
AK: I took a break last year. I got to be off social media for almost six months, and it was incredible. So many songs got made; we put out our first live DVD. When it was time to come back, I broke the addiction to posting.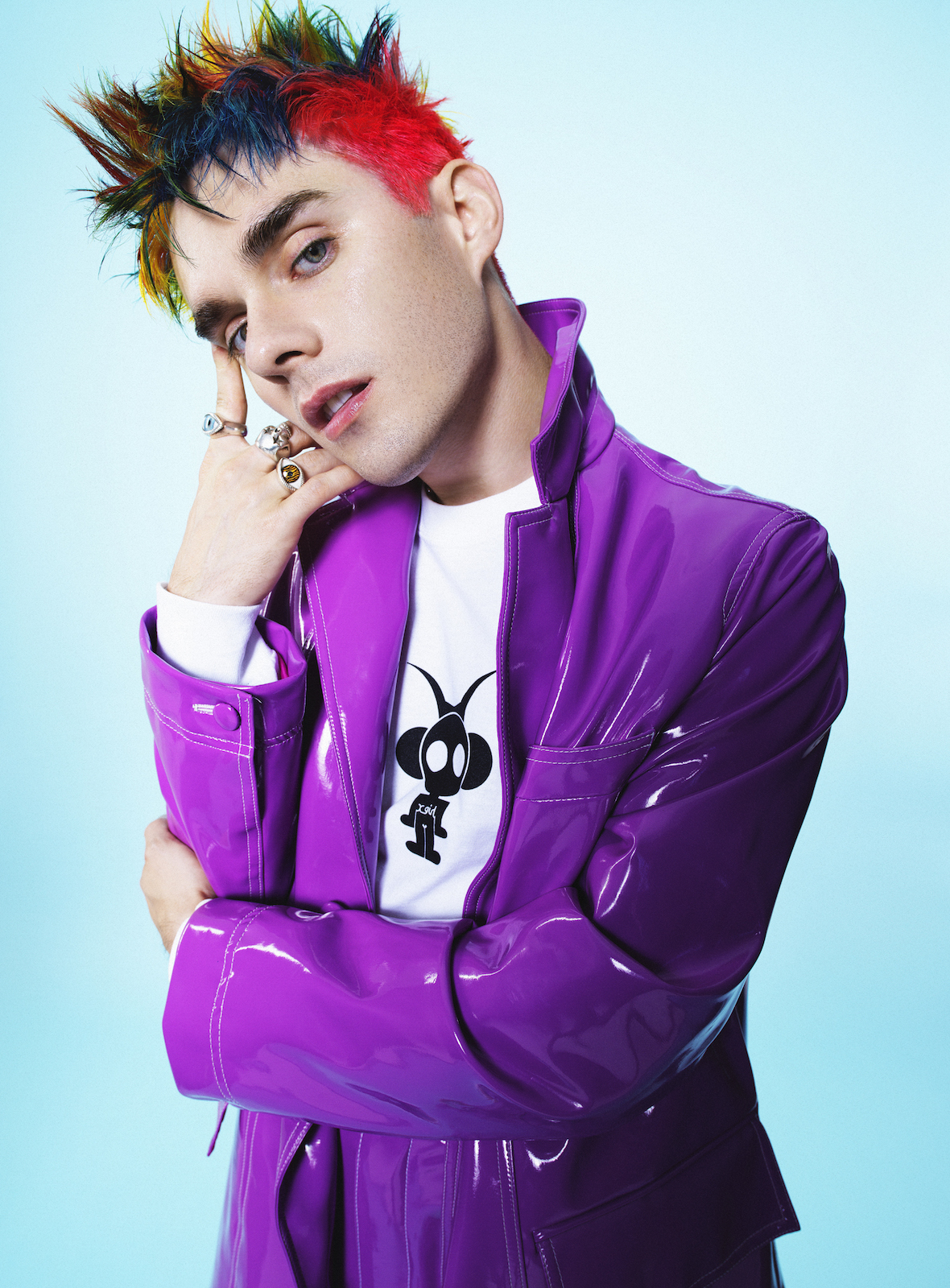 MS: I noticed you posted about Black Lives Matter last summer following the murder of George Floyd. Do you feel the responsibility to use your platforms for good? 
AK: It's important to be a good person. That was during my offline time, but I knew I needed to do something. Social media takes away from it; it's odd that people jump onto actors to go, "Speak now!" because people forget that actors and singers, some of them are so dumb, and that leads to them posting tone-deaf, weird shit to appease people. I went to five protests, I donated, did what I could. And then I looked at Twitter, and realized that people were freaking out, going "We see your silence." If you're not performing for Becky from Wisconsin online, they're going to demonize you. It's really weird. I'm a white guy. With that kind of subject, it's just important to do what you can, go out, but also try and let other people be heard. 
MS: You show solidarity, you protest, you donate, you educate yourself. 
AK: One hundred percent. It's funny, I ordered [Cornel West's Race Matters] a month before everything started. The universe is so funny because this book came in and I was like "Son of a bitch, they're calling me a racist!" I've been trying to do good. 
MS: That relates to "You'd Be Paranoid Too," the song. It's also the title of your autobiography. If you adapted your book into a documentary, you have a theme song ready to go. Do you want to make a movie? 
AK: I do, but I don't think it would be book-based. I watch 90% horror movies, because that was such an interest before all of this started happening full time. In my free time, I go to haunted places. I had a healer come through, a few weeks ago, to cleanse my place. They found something. I shouldn't acknowledge it too much, but now I keep crystals around all my mirrors, and I have certain protection stones by my windows. It's a whole thing. I've got a chakra candle that's burned into my floor right now. But what I'd really like to do, as far as movie stuff goes, is score a horror movie, make the music. Actually, Jason Blum just followed me a week ago. 
MS: You're manifesting it!  
AK: I truly am, I want to do this.  
MS: What kind of horror films are you into? What are you afraid of? 
AK: Paranormal ones, I don't really like gore. I don't like people getting cut up and stabbed in the face, I want to see creepy stuff like ghosts. I think my biggest fear would be possession. I have a friend dealing with something related to that. 
MS: They were possessed?  
AK: I think partially. It was a long time ago, but we dealt with it, figured it out. He used to antagonize things when we're doing a Ouija board, that kind of thing. I'm scared of that. I don't like spiders. I also don't like doors that are opened a certain bit. I hate that. If I see that at night, I'd freak out. 
Credits: Makeup: ROB SCHEPPY, Hair: PATRICIA MORALES Using Oribe, Assistant to Fashion Director: HUNTER CLEM,  Production: JOERI ROUFFA