The Best Bars In Berlin
Berlin barhopping is an endless adventure. Cheaper than a night out in London and New York, plus here, all-night subways and cabs will zip you around on weekends from one district to the next. But Berlin is no capital of gloss. In fact, the underground feel of some of its more raw hotspots is a throwback to the NYC of the 1970s. But these are the hotspots even the locals don't know about, brought to us by our German correspondent: some of the best low-key secret gems the city has to offer, from a Japanese-themed pub to the "instant margarita."
Chauseestraße 131, Mitte
The daughter of a slot machine tycoon, owner Rebecca Brodsky hosts this retro chic art bar, which is filled with vintage slot machines. No dress code, no guest list. Known for keeping an unpretentious vibe, their wild dance floor on Saturday nights has techno DJs play until the morning as people dance on the bar. Be sure to check out the two front windows of the space which has been converted into an art space called Larry Gallery. The eclectic drink menu is always changing but one LARRY classic remains: The Instant Margarita is a drink without a glass – bartenders pour bottles of tequila and Cointreau triple sec simultaneously into your mouth. Faint hearts (and lips) steer clear.
Potsdamer Straße 102, Tiergarten
This is the place to try out swanky new drinks in a film noir setting, as you feel time warped to an episode of Mad Men. From whiskey to brandy and champagne cocktails, try the rum and Caribbean cocktails, not to mention the creative gin-based drinks. Artworks by Canadian artist Marcel Dzama and Young British Artist Sarah Lucas line the walls. Try the Sun Ra tequila cocktail with almond syrup, mezcal, Old Pascas 73°, dry orange and fresh lemon and lime. The bar also has released their own book, The School of Drunkenness which offers a series of classes and even road trips to distilleries.
Augsburger Straße 41, Charlottenburg
Set in the Sofitel Hotel Berlin Kurfürstendamm (formerly the Hotel Concorde Berlin), this classy 5-star accommodation is fit with French luxury. This is the ideal pre-drinking hotspot where you can start the night before venturing into the city's wild nightlife. Start easy with wine or champagne cocktails led by the head bartender Nico Wieduwilt, who serves nutrient-rich "energy cocktails." Local DJs warm up the plush lounge (featuring design classics from the Bauhaus era), as you order up light snacks, like tarte flambée or tarte tatin. Their DJ list flies in from as far as Australia as well as locals tars. Try the daily aperitif.
Prenzlauer Allee 242, Prenzlauer Berg
Set in the family-friendly area in Berlin's north end, barkeeper Michael Hanke and owner Gregor Scholl offer colourful cocktails in this buzzing hotspot. Set in the former Bötzow Brewery, found furniture and coloured lights fill this otherwise industrial chic hideout. Arty, casual and fun, they have taxidermy along their pipes, making you feel like you're in a twisted version of Super Mario. The bar name is linked to a local myth: After WWII, two crocodiles were rescued from the Berlin Zoo and brought to a cellar in the brewery (it can't be proved). The drink menu is just as unconventional—try the whiskey tequila chocolate.
Friedrichstraße 158, Mitte
Formerly a legendary nightclub called Cookies, the owner Heinz Gindullis reopened it last year as Crackers, a hybrid restaurant and bar. Still hidden underground near the subway station Friedrichstraße, it boasts Berlin Fashion Week events like the SOPOPULAR after party (which shakes down next week), as well as magazine launches and Berlinale film fest events. Their pair of grand chandeliers brings together the art of dining and dancing. Delve into their plush chairs to try some Ceviche hazelnut cream for dessert paired with a Cosmo for the late night sweet tooth.
Johannisstraße 20, Mitte
Zenkichi is a Japanese brasserie and bar offering homemade tofu alongside a Sake sommelier – they boast over 30 different kinds of Sake (which is unmatchable in Berlin). Try the Premium Sake Tasting, which offers three different shots, including the Jijofu, which comes from a family-run brewery. The owners have been running Zenkichi in Brooklyn before relocating to Berlin, bringing a splash of New York flair to this European location. For couples, there's privacy – pull the bamboo blinds down at your semi-private table and call the bell for service. Raise a glass of Japanese beer and say "Kassai."
ZENKICHI (VIA FACEBOOK)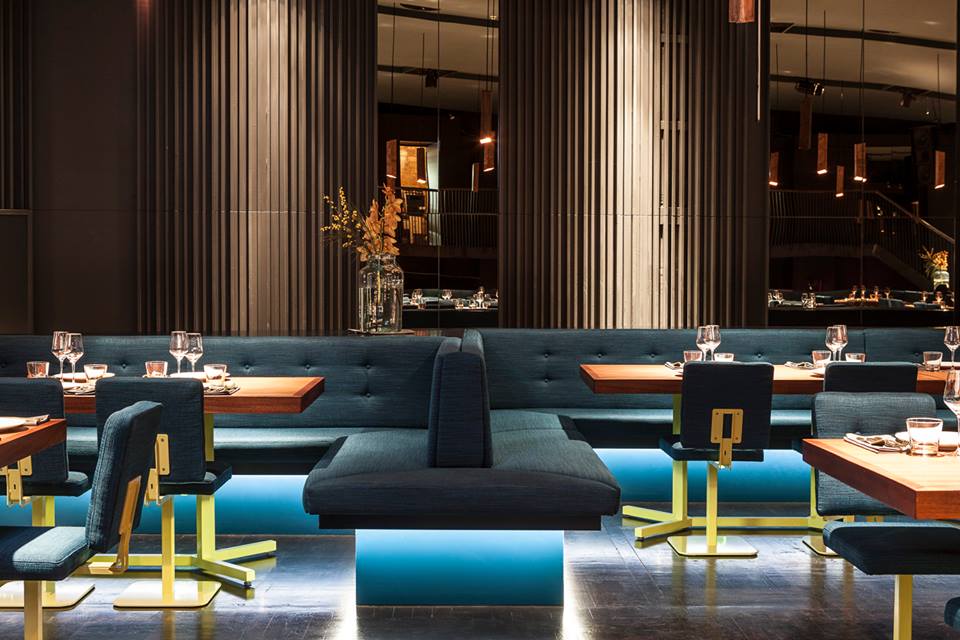 CRACKERS
LARRY BAR
LE CROCO BLEU
LARRY BAR
LE CROCO BLEU
LOUNGE BAR LE FAUBOURG
LOUNGE BAR LE FAUBOURG
VICTORIA BAR
VICTORIA BAR
ZENKICHI  PHOTO COURTESY STEFAN KUEHNE
ZENKICHI  PHOTO COURTESY STEFAN KUEHNE