VMAN 45 Cover Star: Shawn Mendes
Interview By Sir Elton John.
This cover story appears in VMAN 45, which is now available for pre-order. 
Four years ago at the Wiltern Theatre in L.A., an 18-year-old Shawn Mendes joined Elton John on stage. "Blue Jean Baby," John begins, his fingers working a piano. Mendes, in a black leather jacket, watches him play, fidgeting nervously with his hair as John finishes the verse.
"Jesus freaks," Mendes begins, "…out on the street." His voice is similar to John's but softer. He grows more confident as "Tiny Dancer" goes on. John, draped in his usual black sequined suit, continues to play, watching Mendes perform a song written ages before he was born.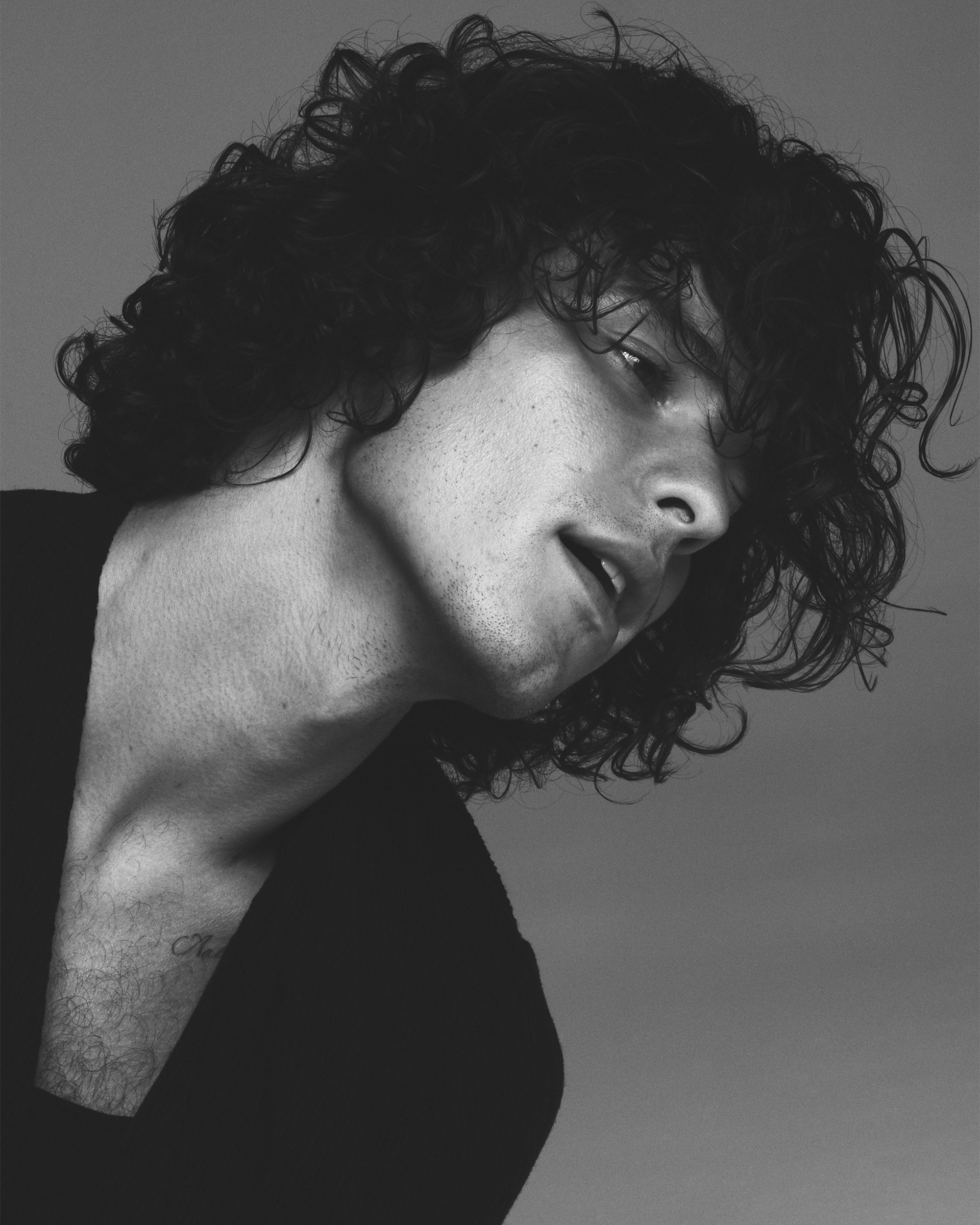 A lot has changed since that performance back in January of 2016. Sometime between Trump becoming president and this year's pandemic, the world as we knew it shifted into a strange parallel universe. On a more personal level, John's biographical film Rocketman came out in 2019, grossing $195 million from a budget of $40 million, receiving a whole slew of accolades and reminding us that John is still, as the kids say, "that bitch." For Mendes, his sophomore and third album (Illuminate and Shawn Mendes, respectively) have helped the singer-songwriter break several records, receive three Grammy nominations, and become a fixture at the top of pop charts and within the hearts of millions of international fans. Mendes will also get his own feature-length film, a documentary titled In Wonder, coming to Netflix this November.
Years after walking off that stage in L.A., when this moment of unity was captured on fans' iPhones, the two singer-songwriters have gone back to being decades apart. While it would be fun to draw comparisons between the two men, their paths to that stage were nothing alike. John went from London's Royal Academy of Music to the world of blues, developed a stage persona, was a hit at The Troubadour in L.A., became one of the most famous stars in the world, developed a drug problem, conquered it, released more hit albums, toured tirelessly, did loads of charity work, and today remains an international treasure. Mendes, too young to compare in a fuller sense, was discovered after amassing a massive audience on Vine, a social media platform that was unimaginable in the '70s. In the span of seven years, he went on to release album after album, (his fourth, Wonder, arrives this winter), garnering world fame at lightning speed and with no interruptions, despite the world stopping in March of this year. To put it succinctly, Mendes (at 22) is no longer that timid but talented boy on the Wiltern's Theatre stage.
In a less literal sense, they wound up duetting, due to a shared kinship of pop music and a particularly elevated brand of the genre that goes beyond producing "songs of the summer," and instead deliver records that will remain cultural gemstones for decades to come. And while this year's restrictiveness prevents the two from sharing a stage anytime soon, VMAN had the two share a candid and heartfelt phone call.
Talking like old friends, Mendes speaks to John about life in the twilight zone, as well as his fourth studio album, Wonder, out on December 4.
Elton John: I'm so fond of you, and every time I've met you, I've just thought you were really down to earth. You have so much magic about you, and you're a big star, but you're so humble. Success has not gone to your head. You have a new album coming out in December, it's called Wonder. What was your inspiration for the new album?
Shawn Mendes: I guess—you know, the amazing thing about being able to speak with another musician is…well, how old were you when you started touring?
EJ: Oh, I was in a band when I was 17, on the road backing people like Patti LaBelle and Major Lance, great soul singers. For about four or five years [I did that], before I started to become Elton John.
SM: And then you were on the road so much more.
EJ: Which gave me the backbone. We talked about this when I met you, and when you so kindly sang "Tiny Dancer." I said, "My advice to you, Shawn, is [to] get a band for the road, and I think you did. You had such a ball doing that, and it's shown in your music and shown in your personality. How old are you now, 23?
SM: 22, now.
EJ: Wow. That was how old I was when I had my first hit, "Your Song." You've got a lot of catching up to do, but you have already done a lot more groundwork than I [had] when I was 23.
SM: I was asking because it was like…you know that when touring starts happening, when you really started to become Elton John and things started to move more and more and more, [it's like] your years start flying behind you.
EJ: Yeah, because I look back at 1970, when I went to The Troubadour, in August. That was when it all started to happen in America. It took me about two years to actually make that happen. America is a big place…you have a lot of ground to cover. Because I was enjoying myself, and you've enjoyed yourself so far on your journey, time goes by so quickly because you do so much stuff, you do records, you do promos, you do shows, you do interviews, and if you're enjoying it, it flies by.
SM: I asked about when you started touring because when I was 15, I started touring, and all of a sudden, seven years have gone by. An amazing seven years, going at the speed of light, and then a pandemic hits, and I have my first real girlfriend—my first time ever truly being in love—and I moved in with her parents in Miami, for the first time learning how to cook and do laundry.
First, the panic sweeps over me. Then I start to settle in and say, "This is lovely, this is beautiful." I think, for me, I've felt like I've been in a bubble for quite a long time, where I've been very afraid to speak about things that I feel really passionate about. When I was able to sit and let my world stop spinning and come still, this stillness came over me and I realized, you know, when it comes to matters of the heart, we don't need to be experts…I started journaling and writing a lot of my thoughts down. That's where Wonder came in. There's an inkling of my voice really starting to come through. I touch on a lot of different topics, but the first lines are just like, "If I'm being real, do I filter what I say? I wonder, wouldn't it be nice to live inside a world that isn't black and white? I wonder, when I cry into my hands, why am I conditioned to feel like it makes me less of a man. I wonder, what it's like to be loved by you." I felt my heart open. I feel this place of real art. This is the first time I felt that I had art coming through me.
EJ: The last track on the album is called, "Can't Imagine." It's just you and a guitar, and it's really, really beautiful. Tell me about that track.
SM: I was going through this whole thing of like, "It's going to be okay. If it all goes away, it'll be okay. But if I lose my girlfriend, I don't know if I'll be okay." That's where "Can't Imagine" spawned from. What's on the record is [me] thinking of words on my first pass, stumbling [on] words, and I ended up recording just to get the melody down. I ended up keeping it because of the magic inside of it…It's definitely made me very aware that no matter how prepared you are for the world, and no matter how practiced you are to be human, there is nothing like sharing it with somebody. The album feels very empowering and strong, but I want it to end on a very honest note.
EJ: Talking about relationships, how long have you and Camila been together?
SM: Almost a year and a half. We've known each other for like, six or seven.
EJ: It seemed to have come along at a really important time in your life and career. When you're young and you're on your own, you don't have anyone to talk to. You don't have anyone to share it with, except your advisers and lawyers or something like that. [Camila] understands. I don't know her and I don't know your relationship, but I feel like she has been a very calming influence on you.
SM: Very. You know what it was more than anything? I don't know if it was something that was a "me thing" or a "men thing," but I think for seven years, I was on such a speedy path down one way with blinders on, and I wasn't keeping in touch with my family and friends…but when I landed with Camila, immediately she had her family around more. [She's] all about the family and friends, and it really made me like, "Oh, I should call my mom." I started reaching back out to my family and friends and all of these connections I felt were further away…I felt a little bit alone out there and she changed that for me.
EJ: When this coronavirus happened and we all ground to a halt and it was like hitting the buffers at 100 miles an hour. All that time, since then, I've just been with David and my two boys. It's been the greatest time because…there is nothing I can do about it, so I'm not worrying about it. I just love the time spent with my boys and David. Doing stuff in the garden, playing with them, hanging out with them.
SM: That's life right there.
EJ: Let's get back to the music. It's hard when people say, "What's your favorite track on the record?" You go, "Oh shit," because you've heard it so much. You must have some favorites.
SM: I definitely do. There is a song on the record called "Song for No One." I wrote it three years ago, and it was before any conceptualization of this album. It was after three days of striking out, and we gave up the room. I started playing this really eerie guitar part, super small. The whole thing is really sad; [I was] not with Camila at the time. I was a little hungover and wishing I was with her. The producer I was with was like, "Okay, keep this, I have this grand idea for it." Next thing I hear, it goes from this beautiful minor progression string swell to this massive '60s fill, and opens up into a major progression with horns and string and harp parts, and it's like the drops open…I don't know what it is about that one, but that one, in particular, gets me.
EJ: I've listened to that and I love it, too. When you wrote that song, did you write it on piano or guitar?
SM: That one I actually wrote on a guitar. This time around, I actually played everything mainly on piano. I came off tour and was kind of tired of playing guitar. I had an upright in my apartment and I started playing piano…I had a dream that I was in the studio and someone else was in the control room. They said, "Okay, Shawn, just play what's in your heart. Just play what your heart feels." I started playing the piano, and I'm going harder and it seems like the more I'm playing, I'm just floating into the thing. As the chords are coming, all of a sudden I wake up. I kept the chord progression. It's on one of the songs called, "Look Up at the Stars".
EJ: You could remember it? I can't remember anything I dream.
SM: Yeah! I could remember it…ever since that dream, I started writing everything on piano.
EJ: Also, you collaborated with Justin Bieber, right?
SM: Yeah. So, Justin and I haven't been close for a long time. When I was nine, Justin was my Michael Jackson. He was everything. He was what everyone talked about, the singer who everyone wanted to sing and dance like. He completely inspired me to start singing. Justin and I have never really had a relationship together, and I had this song called "Monster" that I wrote a long time ago. It's about how society wants to put celebrities up on a pedestal, but as much as they want to do that, they want to celebrate the fall. It was a time when I was really afraid of my industry and afraid of my craft and afraid of everything. I didn't have control. Everyone else had control over me. I think it just ended up becoming a metaphor for a bigger thing; that we all put pressure on each other as humans to be great, to be perfect. I called Justin and said, "I have this song and it means a lot to me. If it means something seriously to you and you want to put something very real on it, please be a part of this with me." And he did. Since then, we have become closer than ever. Sometimes I think that music comes along for a bigger reason, which, for me in this case is to create a song to inspire people, but to also create a friendship that was never there before.
EJ: You've got Anderson Paak on it,[too]. He's one of my favorite artists. How did that happen?
SM: I saw this hilarious comment on a video on YouTube that said, "If Anderson Paak got any better, he would glow. His skin would start to glow golden light." It's funny, there are just some musicians who feel like they are playing from a divine power. I love the way he plays. It's like he's singing with the drums.
EJ: You're great as an artist because of your musicianship. You've been on tour, you've played with other musicians. You cannot do anything better for yourself as a musician, writer, vocalist. I haven't seen you perform live for a while, but I know you are capable of singing through the roof. And you know that, too. You have so much more to do like that. That's why I love talking to you in this stage of your career, because I know what's going to happen to you. It's already happened, but it's happening on your terms. I think it's really important for you to stress that. You are 22 and everything is happening on your terms. You're not being guided…that is the biggest asset you have.
SM: Thank you, that means the world. I think there's something really amazing about being the writer of your own story. I actually stole that from Matthew McConaughey. He said that one time. Life moves really fast, and a lot of people can get involved in your career, especially when things are going good. You have to slow down and say, "Where am I? What [am I]?" Once you do that, it ends up paying off more than ever because people can feel that, and the art becomes better. [Or] maybe it doesn't but at the end of the day, it's still you.
EJ: Getting away from music, something that has impressed me so about you is your foundation. I love people who give back in life, but when they start at a young age like you…
SM: To put it simply, I would do these Q&As on tour. I would go into a room in every city with 150 fans, and we would talk it out. Something that I was trying to figure out was where can I help in this world? There are so many causes, so many things, so much information coming in on fifty different causes. There is a lot of awareness and not a lot of call to action. I think there is a lot of pressure on celebrities to know how to help, and to be so educated and so right on about everything they talk about. I don't really know anything. Now, as things have kind of taken a spin in America, especially with the Black Lives Matter movement and climate change, that is where I've been like "okay," I take a deep breath and I put aside my ego and say, "Time to learn." If I give my platform to a young Black changemaker who is running a grassroots organization, she or he will know how to speak on behalf of the problems much more articulately and clearly, and they'll get the point across and have the conviction, and all I have to do is give them my Instagram account for the day.
EJ: They're going to know what is happening better than you, because they're going through it.
SM: I'll never understand—no matter how much studying or reading I do—I will never understand what it's like to be a suppressed Black person. I think that's the main reason that I have taken this really big stance with the foundation, giving [my Instagram platform of 55 million people] to them. Take it and speak with it…I know that I'm 22, but I have a lot to learn. I think the foundation is teaching me more than I ever knew.
EJ: It's something that I commend you for, and just know that you are a good human being. I love talking to you. Is there anything else you want to say?
SM: No, I think you've said the sweetest things about me. Life is funny, I always think back to singing "Tiny Dancer" with you and remember how I almost said, "I'm not gonna do it," because of my fear to sing with you.
EJ: Please! You came on and sang it so brilliantly, because you were so well prepared. And I was so impressed by that. I knew you were going to be intimidated, and in the reverse situation, I would have been, too. But you did it. And that's why I took you aside and said, "Listen, you're really good." You were maybe 19 years of age at that time, but I can tell talent. I can tell when someone has it or they don't. [But] I think it's really a danger that people, when they get to be famous, live in a bubble. I've always tried to live out on stage, and I've never come back to my home and pretended to be Elton. Even more so now that I have a family and two children. I've never believed the myth. I think it's really good to be living in England because sometimes people idolize stars in America, and they put them on huge pedestals, and I think it's a dangerous situation. I've seen it happen to so many people, where they become trapped by their own persona and start to believe they are invincible. We're just human beings who play music and entertain people.
SM: I just wanted to say, I know you have been praised all your life, but on a very human level, from someone who is doing what you do…I often think about artists who have been doing this for a long time and have toured for a long time and given back for a long time, you have to have the biggest heart to continue going and giving the amount of love that you have given. I just want to say thank you for being so inspiring in that sense. There are a lot of moments where I feel, as an artist, that this is a lot; to be Shawn Mendes is hard. When I look at someone like you, who has kept going with so much love and humility, and has the time to get on the phone with me for an hour and do this among a million other things, I think [to myself], "It's possible to do this."
EJ: I really wanted to do this. I was really chuffed because I care about you, and I really love what you do. You have everything going for you in the best possible way. I can't wait to see you. And give my love to your beautiful girlfriend. And stay well.